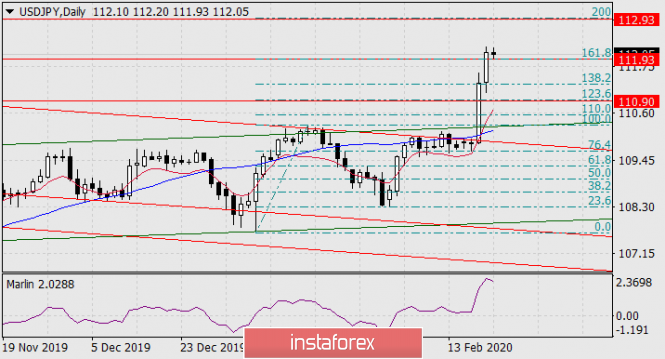 The yen has soared (actually falling against the dollar) by 220 points over the past two weeks, showing the highest daily dynamics over the past two years. After leaving the MACD line on the daily chart, the price resolutely overcame a number of Fibonacci levels, not staying at 138.2%, stopping last night and this morning at 161.8% (111.93).
Here, the price may linger a little longer, after which, according to the main scenario, it will continue to grow to the Fibonacci level of 200.0% at the price of 112.93.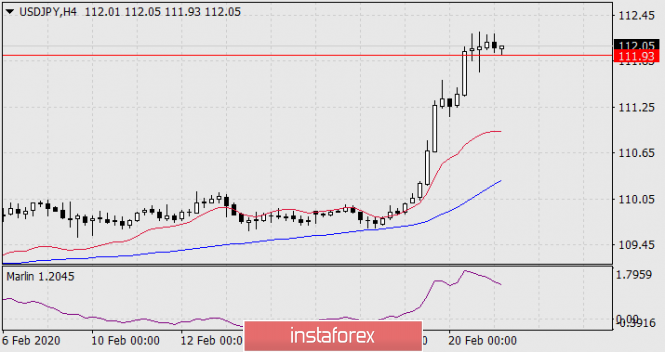 The Marlin oscillator is falling on the H4 chart, but in the current situation this can only mean that the price can really stay at the level reached before further growth.
The material has been provided by InstaForex Company – www.instaforex.com
Source:: Forecast for USD/JPY on February 21, 2020
<!-- AddThis Button END --><div class='heateorSssClear'></div><div  class='heateor_sss_sharing_container heateor_sss_horizontal_sharing' heateor-sss-data-href='https://www.forexalchemy.com/forecast-for-usd-jpy-on-feb-21-2020'><div class='heateor_sss_sharing_title' style="font-weight:bold" >Won&#039;t your trader friends like this?</div><ul class="heateor_sss_sharing_ul"><li class="heateorSssSharingRound"><i style="width:35px;height:35px;" alt="Facebook" title="Facebook" class="heateorSssSharing heateorSssFacebookBackground" onclick='heateorSssPopup("https://www.facebook.com/sharer/sharer.php?u=https%3A%2F%2Fwww.forexalchemy.com%2Fforecast-for-usd-jpy-on-feb-21-2020")'><ss style="display:block;" class="heateorSssSharingSvg heateorSssFacebookSvg"></ss></i></li><li class="heateorSssSharingRound"><i style="width:35px;height:35px;" alt="Twitter" title="Twitter" class="heateorSssSharing heateorSssTwitterBackground" onclick='heateorSssPopup("http://twitter.com/intent/tweet?text=Forecast%20for%20USD%2FJPY%20on%20Feb%2021%2C%202020&url=https%3A%2F%2Fwww.forexalchemy.com%2Fforecast-for-usd-jpy-on-feb-21-2020")'><ss style="display:block;" class="heateorSssSharingSvg heateorSssTwitterSvg"></ss></i></li><li class="heateorSssSharingRound"><i style="width:35px;height:35px;" alt="Linkedin" title="Linkedin" class="heateorSssSharing heateorSssLinkedinBackground" onclick='heateorSssPopup("http://www.linkedin.com/shareArticle?mini=true&url=https%3A%2F%2Fwww.forexalchemy.com%2Fforecast-for-usd-jpy-on-feb-21-2020&title=Forecast%20for%20USD%2FJPY%20on%20Feb%2021%2C%202020")'><ss style="display:block;" class="heateorSssSharingSvg heateorSssLinkedinSvg"></ss></i></li><li class="heateorSssSharingRound"><i style="width:35px;height:35px;" alt="Pinterest" title="Pinterest" class="heateorSssSharing heateorSssPinterestBackground" onclick="javascript:void( (function() {var e=document.createElement('script' );e.setAttribute('type','text/javascript' );e.setAttribute('charset','UTF-8' );e.setAttribute('src','//assets.pinterest.com/js/pinmarklet.js?r='+Math.random()*99999999);document.body.appendChild(e)})());"><ss style="display:block;" class="heateorSssSharingSvg heateorSssPinterestSvg"></ss></i></li><li class="heateorSssSharingRound"><i style="width:35px;height:35px;" alt="Reddit" title="Reddit" class="heateorSssSharing heateorSssRedditBackground" onclick='heateorSssPopup("http://reddit.com/submit?url=https%3A%2F%2Fwww.forexalchemy.com%2Fforecast-for-usd-jpy-on-feb-21-2020&title=Forecast%20for%20USD%2FJPY%20on%20Feb%2021%2C%202020")'><ss style="display:block;" class="heateorSssSharingSvg heateorSssRedditSvg"></ss></i></li><li class="heateorSssSharingRound"><i style="width:35px;height:35px;" alt="Mix" title="Mix" class="heateorSssSharing heateorSssMixBackground" onclick='heateorSssPopup("https://mix.com/mixit?url=https%3A%2F%2Fwww.forexalchemy.com%2Fforecast-for-usd-jpy-on-feb-21-2020")'><ss style="display:block;" class="heateorSssSharingSvg heateorSssMixSvg"></ss></i></li><li class="heateorSssSharingRound"><i style="width:35px;height:35px;" alt="Whatsapp" title="Whatsapp" class="heateorSssSharing heateorSssWhatsappBackground"><ss style="display:block" class="heateorSssSharingSvg heateorSssWhatsappSvg"></ss></i></li><li class="heateorSssSharingRound"><i style="width:35px;height:35px;" title="More" alt="More" class="heateorSssSharing heateorSssMoreBackground" onclick="heateorSssMoreSharingPopup(this, 'https://www.forexalchemy.com/forecast-for-usd-jpy-on-feb-21-2020', 'Forecast%20for%20USD%2FJPY%20on%20Feb%2021%2C%202020', '' )" ><ss style="display:block" class="heateorSssSharingSvg heateorSssMoreSvg"></ss></i></li></ul><div class="heateorSssClear"></div></div><div class='heateorSssClear'></div><div class="clear"></div><br/><div class="blog-info-wrapper"><div class="blog-date"><span class="head">Posted On</span> 16 Feb 2020</div><div class="blog-author"><span class="separator">, </span><span class="head">By</span> InstaForex</div><div class="clear"></div></div><br/><div class="blog-info-wrapper"><div class="blog-date"><span class="head">Posted On</span> 16 Feb 2020</div><div class="blog-author"><span class="separator">, </span><span class="head">By</span> InstaForex</div><div class="clear"></div></div><br/><div class="blog-info-wrapper"><div class="blog-date"><span class="head">Posted On</span> 12 Feb 2020</div><div class="blog-author"><span class="separator">, </span><span class="head">By</span> InstaForex</div><div class="clear"></div></div><br/><div class="blog-info-wrapper"><div class="blog-date"><span class="head">Posted On</span> 12 Feb 2020</div><div class="blog-author"><span class="separator">, </span><span class="head">By</span> InstaForex</div><div class="clear"></div></div><br/><div class="blog-info-wrapper"><div class="blog-date"><span class="head">Posted On</span> 06 Feb 2020</div><div class="blog-author"><span class="separator">, </span><span class="head">By</span> InstaForex</div><div class="clear"></div></div><br/><div class="blog-info-wrapper"><div class="blog-date"><span class="head">Posted On</span> 06 Feb 2020</div><div class="blog-author"><span class="separator">, </span><span class="head">By</span> InstaForex</div><div class="clear"></div></div><br/><div class="blog-info-wrapper"><div class="blog-date"><span class="head">Posted On</span> 02 Feb 2020</div><div class="blog-author"><span class="separator">, </span><span class="head">By</span> InstaForex</div><div class="clear"></div></div><br/><div class="blog-info-wrapper"><div class="blog-date"><span class="head">Posted On</span> 31 Jan 2020</div><div class="blog-author"><span class="separator">, </span><span class="head">By</span> InstaForex</div><div class="clear"></div></div><br/><div class="blog-info-wrapper"><div class="blog-date"><span class="head">Posted On</span> 30 Jan 2020</div><div class="blog-author"><span class="separator">, </span><span class="head">By</span> InstaForex</div><div class="clear"></div></div><br/>

Roz has been engaged in the financial markets since 2017, specializing in Foreign Exchange, Before joining to FOREX IN WORLD she start to learn forex trading related information.
Email: forexinworld@gmail.com