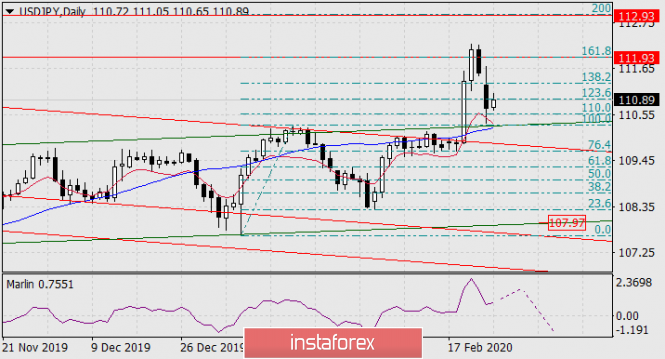 USD/JPY
Yesterday's 3.35% drop in the US stock market (S&P500) shocked the yen and other related markets. Today, Japan's Nikkei225 loses 3.02%, China's Shanghai Composite -1.02%. This may indeed be the beginning of a new global crisis (Argentina has already defaulted), however, there may also be a delay. A direct sign of the crisis will be the bankruptcy of several large companies in the Asian region. Let's wait.
But as long as the USD/JPY pair is above the balance and MACD indicator lines on the daily scale chart, the Marlin oscillator remains in the growth zone. It is possible to continue the growth to the Fibonacci level of 161.8% at the price of 111.93. Today's data on consumer confidence from the Conference Board for February can help the market in this regard. The forecast for the indicator is 130.6-132.6 against 131.6 in January. The house price index for December (forecast: 0.4%) will also be published. If investors are to suppress the fears, the market growth is possible. Overcoming the level of 161.8% will allow the dollar to grow to 112.93 yen, to the Fibonacci level of 200.0%. But then the situation will become even more unpredictable, and divergence may form on Marlin.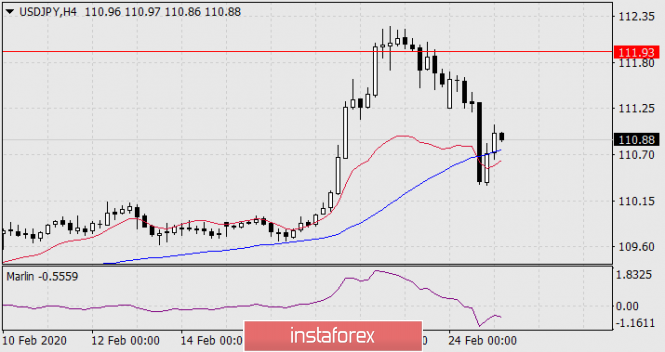 According to the four-hour chart, the price is fixed above the balance and MACD lines, while Marlin is in a weak state – in the zone of negative values. The main trend is growing.
Fixing prices below the low of yesterday, which would also meet the prices under the three important technical line on the daily scale (the MACD line, the Fibo level of 100.0%, the embedded green price channel line) could derail the USD/JPY to the underlying green line of the price channel around 107.97.
The material has been provided by InstaForex Company – www.instaforex.com
Source:: Forecast for USD/JPY on February 25, 2020
<!-- AddThis Button END --><div class='heateorSssClear'></div><div  class='heateor_sss_sharing_container heateor_sss_horizontal_sharing' heateor-sss-data-href='https://www.forexalchemy.com/forecast-for-usd-jpy-on-feb-25-2020'><div class='heateor_sss_sharing_title' style="font-weight:bold" >Won&#039;t your trader friends like this?</div><ul class="heateor_sss_sharing_ul"><li class="heateorSssSharingRound"><i style="width:35px;height:35px;" alt="Facebook" title="Facebook" class="heateorSssSharing heateorSssFacebookBackground" onclick='heateorSssPopup("https://www.facebook.com/sharer/sharer.php?u=https%3A%2F%2Fwww.forexalchemy.com%2Fforecast-for-usd-jpy-on-feb-25-2020")'><ss style="display:block;" class="heateorSssSharingSvg heateorSssFacebookSvg"></ss></i></li><li class="heateorSssSharingRound"><i style="width:35px;height:35px;" alt="Twitter" title="Twitter" class="heateorSssSharing heateorSssTwitterBackground" onclick='heateorSssPopup("http://twitter.com/intent/tweet?text=Forecast%20for%20USD%2FJPY%20on%20Feb%2025%2C%202020&url=https%3A%2F%2Fwww.forexalchemy.com%2Fforecast-for-usd-jpy-on-feb-25-2020")'><ss style="display:block;" class="heateorSssSharingSvg heateorSssTwitterSvg"></ss></i></li><li class="heateorSssSharingRound"><i style="width:35px;height:35px;" alt="Linkedin" title="Linkedin" class="heateorSssSharing heateorSssLinkedinBackground" onclick='heateorSssPopup("http://www.linkedin.com/shareArticle?mini=true&url=https%3A%2F%2Fwww.forexalchemy.com%2Fforecast-for-usd-jpy-on-feb-25-2020&title=Forecast%20for%20USD%2FJPY%20on%20Feb%2025%2C%202020")'><ss style="display:block;" class="heateorSssSharingSvg heateorSssLinkedinSvg"></ss></i></li><li class="heateorSssSharingRound"><i style="width:35px;height:35px;" alt="Pinterest" title="Pinterest" class="heateorSssSharing heateorSssPinterestBackground" onclick="javascript:void( (function() {var e=document.createElement('script' );e.setAttribute('type','text/javascript' );e.setAttribute('charset','UTF-8' );e.setAttribute('src','//assets.pinterest.com/js/pinmarklet.js?r='+Math.random()*99999999);document.body.appendChild(e)})());"><ss style="display:block;" class="heateorSssSharingSvg heateorSssPinterestSvg"></ss></i></li><li class="heateorSssSharingRound"><i style="width:35px;height:35px;" alt="Reddit" title="Reddit" class="heateorSssSharing heateorSssRedditBackground" onclick='heateorSssPopup("http://reddit.com/submit?url=https%3A%2F%2Fwww.forexalchemy.com%2Fforecast-for-usd-jpy-on-feb-25-2020&title=Forecast%20for%20USD%2FJPY%20on%20Feb%2025%2C%202020")'><ss style="display:block;" class="heateorSssSharingSvg heateorSssRedditSvg"></ss></i></li><li class="heateorSssSharingRound"><i style="width:35px;height:35px;" alt="Mix" title="Mix" class="heateorSssSharing heateorSssMixBackground" onclick='heateorSssPopup("https://mix.com/mixit?url=https%3A%2F%2Fwww.forexalchemy.com%2Fforecast-for-usd-jpy-on-feb-25-2020")'><ss style="display:block;" class="heateorSssSharingSvg heateorSssMixSvg"></ss></i></li><li class="heateorSssSharingRound"><i style="width:35px;height:35px;" alt="Whatsapp" title="Whatsapp" class="heateorSssSharing heateorSssWhatsappBackground"><ss style="display:block" class="heateorSssSharingSvg heateorSssWhatsappSvg"></ss></i></li><li class="heateorSssSharingRound"><i style="width:35px;height:35px;" title="More" alt="More" class="heateorSssSharing heateorSssMoreBackground" onclick="heateorSssMoreSharingPopup(this, 'https://www.forexalchemy.com/forecast-for-usd-jpy-on-feb-25-2020', 'Forecast%20for%20USD%2FJPY%20on%20Feb%2025%2C%202020', '' )" ><ss style="display:block" class="heateorSssSharingSvg heateorSssMoreSvg"></ss></i></li></ul><div class="heateorSssClear"></div></div><div class='heateorSssClear'></div><div class="clear"></div><br/><div class="blog-info-wrapper"><div class="blog-date"><span class="head">Posted On</span> 20 Feb 2020</div><div class="blog-author"><span class="separator">, </span><span class="head">By</span> InstaForex</div><div class="clear"></div></div><br/><div class="blog-info-wrapper"><div class="blog-date"><span class="head">Posted On</span> 16 Feb 2020</div><div class="blog-author"><span class="separator">, </span><span class="head">By</span> InstaForex</div><div class="clear"></div></div><br/><div class="blog-info-wrapper"><div class="blog-date"><span class="head">Posted On</span> 16 Feb 2020</div><div class="blog-author"><span class="separator">, </span><span class="head">By</span> InstaForex</div><div class="clear"></div></div><br/><div class="blog-info-wrapper"><div class="blog-date"><span class="head">Posted On</span> 12 Feb 2020</div><div class="blog-author"><span class="separator">, </span><span class="head">By</span> InstaForex</div><div class="clear"></div></div><br/><div class="blog-info-wrapper"><div class="blog-date"><span class="head">Posted On</span> 12 Feb 2020</div><div class="blog-author"><span class="separator">, </span><span class="head">By</span> InstaForex</div><div class="clear"></div></div><br/><div class="blog-info-wrapper"><div class="blog-date"><span class="head">Posted On</span> 06 Feb 2020</div><div class="blog-author"><span class="separator">, </span><span class="head">By</span> InstaForex</div><div class="clear"></div></div><br/><div class="blog-info-wrapper"><div class="blog-date"><span class="head">Posted On</span> 06 Feb 2020</div><div class="blog-author"><span class="separator">, </span><span class="head">By</span> InstaForex</div><div class="clear"></div></div><br/><div class="blog-info-wrapper"><div class="blog-date"><span class="head">Posted On</span> 02 Feb 2020</div><div class="blog-author"><span class="separator">, </span><span class="head">By</span> InstaForex</div><div class="clear"></div></div><br/><div class="blog-info-wrapper"><div class="blog-date"><span class="head">Posted On</span> 31 Jan 2020</div><div class="blog-author"><span class="separator">, </span><span class="head">By</span> InstaForex</div><div class="clear"></div></div><br/>