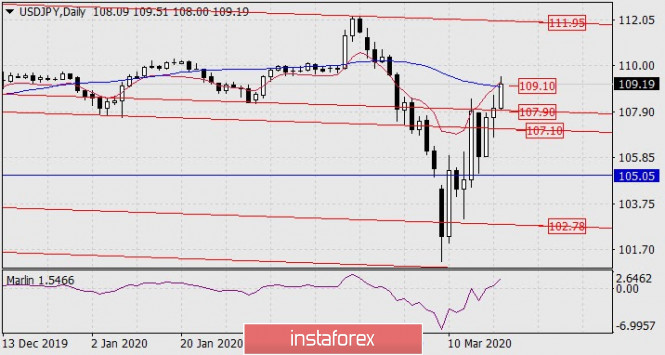 Today, in the Asian session, the price of the USD/JPY pair reached the goal along the MACD line on the daily scale chart. Here, the growing correction from the February 21-March 9 movement may come to an end. The stock indexes continued to fall yesterday: S&P 500 -5.18%, Russell 2000 -8.22%, FTSE100 -4.05%, Euro Stoxx 50 -6.16%. This morning: Nikkei 225 -2.66%, China A50 -4.32%, S&P/ASX 200 -1.77%. We still accept the traditional correlation of the strengthening of the Japanese yen following the decline of stock markets, the pair's growth from yesterday is most likely due to the Japanese central bank's intervention, since trading volumes were extremely high. But in the future, the central bank's influence on the yen will weaken, although it will strengthen, but only moderately.
There are signs of an emerging divergence on the Marlin oscillator on the four-hour chart. Moving the price below the 107.90 level (the nearest linear support on the daily chart ) will strengthen the mood to take the lower level of 107.10, which is also support for the embedded line of the price channel on the daily. Next, the 105.05 target will open – support for the MACD line on the H4. Most likely, the global economy will grow by no more than 0.9% in 2020.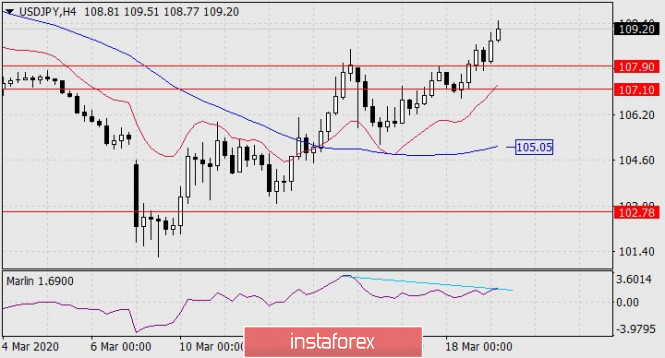 In an alternative scenario, if the price consolidates above the MACD line of the daily time above 109.10, the price will continue to rise to the upper line of the price channel to 111.95, which will indicate the dollar's global prevalence in all markets.
The material has been provided by InstaForex Company – www.instaforex.com
Source:: Forecast for USD/JPY on March 19, 2020
<!-- AddThis Button END --><div class='heateorSssClear'></div><div  class='heateor_sss_sharing_container heateor_sss_horizontal_sharing' heateor-sss-data-href='https://www.forexalchemy.com/forecast-for-usd-jpy-on-mar-19-2020'><div class='heateor_sss_sharing_title' style="font-weight:bold" >Won&#039;t your trader friends like this?</div><ul class="heateor_sss_sharing_ul"><li class="heateorSssSharingRound"><i style="width:35px;height:35px;" alt="Facebook" title="Facebook" class="heateorSssSharing heateorSssFacebookBackground" onclick='heateorSssPopup("https://www.facebook.com/sharer/sharer.php?u=https%3A%2F%2Fwww.forexalchemy.com%2Fforecast-for-usd-jpy-on-mar-19-2020")'><ss style="display:block;" class="heateorSssSharingSvg heateorSssFacebookSvg"></ss></i></li><li class="heateorSssSharingRound"><i style="width:35px;height:35px;" alt="Twitter" title="Twitter" class="heateorSssSharing heateorSssTwitterBackground" onclick='heateorSssPopup("http://twitter.com/intent/tweet?text=Forecast%20for%20USD%2FJPY%20on%20Mar%2019%2C%202020&url=https%3A%2F%2Fwww.forexalchemy.com%2Fforecast-for-usd-jpy-on-mar-19-2020")'><ss style="display:block;" class="heateorSssSharingSvg heateorSssTwitterSvg"></ss></i></li><li class="heateorSssSharingRound"><i style="width:35px;height:35px;" alt="Linkedin" title="Linkedin" class="heateorSssSharing heateorSssLinkedinBackground" onclick='heateorSssPopup("http://www.linkedin.com/shareArticle?mini=true&url=https%3A%2F%2Fwww.forexalchemy.com%2Fforecast-for-usd-jpy-on-mar-19-2020&title=Forecast%20for%20USD%2FJPY%20on%20Mar%2019%2C%202020")'><ss style="display:block;" class="heateorSssSharingSvg heateorSssLinkedinSvg"></ss></i></li><li class="heateorSssSharingRound"><i style="width:35px;height:35px;" alt="Pinterest" title="Pinterest" class="heateorSssSharing heateorSssPinterestBackground" onclick="javascript:void( (function() {var e=document.createElement('script' );e.setAttribute('type','text/javascript' );e.setAttribute('charset','UTF-8' );e.setAttribute('src','//assets.pinterest.com/js/pinmarklet.js?r='+Math.random()*99999999);document.body.appendChild(e)})());"><ss style="display:block;" class="heateorSssSharingSvg heateorSssPinterestSvg"></ss></i></li><li class="heateorSssSharingRound"><i style="width:35px;height:35px;" alt="Reddit" title="Reddit" class="heateorSssSharing heateorSssRedditBackground" onclick='heateorSssPopup("http://reddit.com/submit?url=https%3A%2F%2Fwww.forexalchemy.com%2Fforecast-for-usd-jpy-on-mar-19-2020&title=Forecast%20for%20USD%2FJPY%20on%20Mar%2019%2C%202020")'><ss style="display:block;" class="heateorSssSharingSvg heateorSssRedditSvg"></ss></i></li><li class="heateorSssSharingRound"><i style="width:35px;height:35px;" alt="Mix" title="Mix" class="heateorSssSharing heateorSssMixBackground" onclick='heateorSssPopup("https://mix.com/mixit?url=https%3A%2F%2Fwww.forexalchemy.com%2Fforecast-for-usd-jpy-on-mar-19-2020")'><ss style="display:block;" class="heateorSssSharingSvg heateorSssMixSvg"></ss></i></li><li class="heateorSssSharingRound"><i style="width:35px;height:35px;" alt="Whatsapp" title="Whatsapp" class="heateorSssSharing heateorSssWhatsappBackground"><ss style="display:block" class="heateorSssSharingSvg heateorSssWhatsappSvg"></ss></i></li><li class="heateorSssSharingRound"><i style="width:35px;height:35px;" title="More" alt="More" class="heateorSssSharing heateorSssMoreBackground" onclick="heateorSssMoreSharingPopup(this, 'https://www.forexalchemy.com/forecast-for-usd-jpy-on-mar-19-2020', 'Forecast%20for%20USD%2FJPY%20on%20Mar%2019%2C%202020', '' )" ><ss style="display:block" class="heateorSssSharingSvg heateorSssMoreSvg"></ss></i></li></ul><div class="heateorSssClear"></div></div><div class='heateorSssClear'></div><div class="clear"></div><br/><div class="blog-info-wrapper"><div class="blog-date"><span class="head">Posted On</span> 19 Mar 2020</div><div class="blog-author"><span class="separator">, </span><span class="head">By</span> InstaForex</div><div class="clear"></div></div><br/><div class="blog-info-wrapper"><div class="blog-date"><span class="head">Posted On</span> 18 Mar 2020</div><div class="blog-author"><span class="separator">, </span><span class="head">By</span> InstaForex</div><div class="clear"></div></div><br/><div class="blog-info-wrapper"><div class="blog-date"><span class="head">Posted On</span> 16 Mar 2020</div><div class="blog-author"><span class="separator">, </span><span class="head">By</span> InstaForex</div><div class="clear"></div></div><br/><div class="blog-info-wrapper"><div class="blog-date"><span class="head">Posted On</span> 13 Mar 2020</div><div class="blog-author"><span class="separator">, </span><span class="head">By</span> InstaForex</div><div class="clear"></div></div><br/><div class="blog-info-wrapper"><div class="blog-date"><span class="head">Posted On</span> 12 Mar 2020</div><div class="blog-author"><span class="separator">, </span><span class="head">By</span> InstaForex</div><div class="clear"></div></div><br/><div class="blog-info-wrapper"><div class="blog-date"><span class="head">Posted On</span> 12 Mar 2020</div><div class="blog-author"><span class="separator">, </span><span class="head">By</span> InstaForex</div><div class="clear"></div></div><br/><div class="blog-info-wrapper"><div class="blog-date"><span class="head">Posted On</span> 10 Mar 2020</div><div class="blog-author"><span class="separator">, </span><span class="head">By</span> InstaForex</div><div class="clear"></div></div><br/><div class="blog-info-wrapper"><div class="blog-date"><span class="head">Posted On</span> 05 Mar 2020</div><div class="blog-author"><span class="separator">, </span><span class="head">By</span> InstaForex</div><div class="clear"></div></div><br/><div class="blog-info-wrapper"><div class="blog-date"><span class="head">Posted On</span> 02 Mar 2020</div><div class="blog-author"><span class="separator">, </span><span class="head">By</span> InstaForex</div><div class="clear"></div></div><br/>

Roz has been engaged in the financial markets since 2017, specializing in Foreign Exchange, Before joining to FOREX IN WORLD she start to learn forex trading related information.
Email: forexinworld@gmail.com