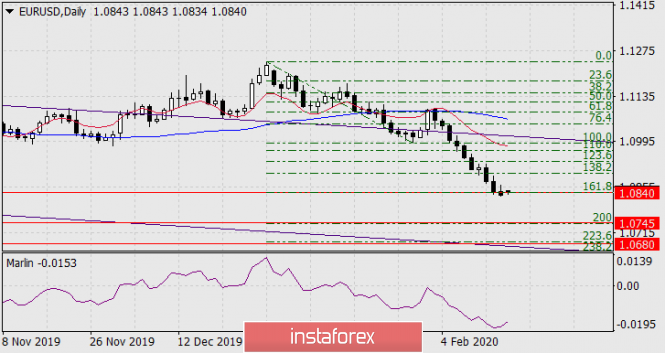 Mixed data on the euro area and the US came out last Friday; Eurozone trade balance increased from $19.1 billion to $22.2 billion in December, GDP for the fourth quarter amounted to the expected 0.1%, but German GDP showed a zero increase against the expected 0.1%, which was interpreted by the market as a signal for further deterioration of the economy and the entire eurozone. In the US, industrial production fell by -0.3% in January against the forecast of -0.2% and capacity utilization fell from 77.1% to 76.8%, but retail sales for the same month showed a good increase of 0.3 %
As a result, the euro fell 12 points, breaking the support of the Fibonacci reaction level of 161.8%. The next target is the Fibonacci level of 200.0% at the price of 1.0745, then we are waiting for it to be conquered and for the euro to fall to the second target of 1.0680, at the intersection of the price channel line and the Fibonacci level of 223.6%.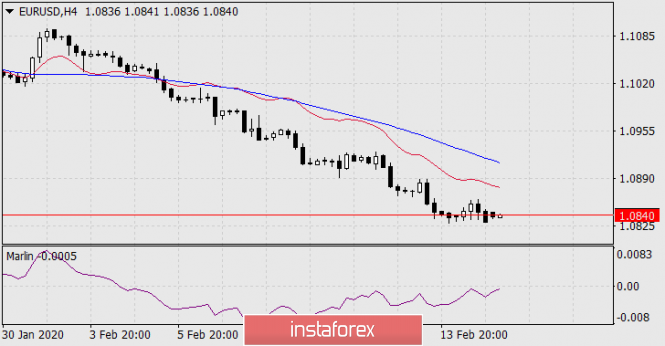 On the four-hour chart, the signal line of the Marlin oscillator turned down, not reaching the territory of the bulls. We are waiting for the price to fall, but it will probably be calm today since it is a public holiday in the US.
The material has been provided by InstaForex Company – www.instaforex.com
Source:: Forecast of EUR/USD on February 17, 2020
<!-- AddThis Button END --><div class='heateorSssClear'></div><div  class='heateor_sss_sharing_container heateor_sss_horizontal_sharing' heateor-sss-data-href='https://www.forexalchemy.com/forecast-of-eur-usd-on-feb-17-2020'><div class='heateor_sss_sharing_title' style="font-weight:bold" >Won&#039;t your trader friends like this?</div><ul class="heateor_sss_sharing_ul"><li class="heateorSssSharingRound"><i style="width:35px;height:35px;" alt="Facebook" title="Facebook" class="heateorSssSharing heateorSssFacebookBackground" onclick='heateorSssPopup("https://www.facebook.com/sharer/sharer.php?u=https%3A%2F%2Fwww.forexalchemy.com%2Fforecast-of-eur-usd-on-feb-17-2020")'><ss style="display:block;" class="heateorSssSharingSvg heateorSssFacebookSvg"></ss></i></li><li class="heateorSssSharingRound"><i style="width:35px;height:35px;" alt="Twitter" title="Twitter" class="heateorSssSharing heateorSssTwitterBackground" onclick='heateorSssPopup("http://twitter.com/intent/tweet?text=Forecast%20of%20EUR%2FUSD%20on%20Feb%2017%2C%202020&url=https%3A%2F%2Fwww.forexalchemy.com%2Fforecast-of-eur-usd-on-feb-17-2020")'><ss style="display:block;" class="heateorSssSharingSvg heateorSssTwitterSvg"></ss></i></li><li class="heateorSssSharingRound"><i style="width:35px;height:35px;" alt="Linkedin" title="Linkedin" class="heateorSssSharing heateorSssLinkedinBackground" onclick='heateorSssPopup("http://www.linkedin.com/shareArticle?mini=true&url=https%3A%2F%2Fwww.forexalchemy.com%2Fforecast-of-eur-usd-on-feb-17-2020&title=Forecast%20of%20EUR%2FUSD%20on%20Feb%2017%2C%202020")'><ss style="display:block;" class="heateorSssSharingSvg heateorSssLinkedinSvg"></ss></i></li><li class="heateorSssSharingRound"><i style="width:35px;height:35px;" alt="Pinterest" title="Pinterest" class="heateorSssSharing heateorSssPinterestBackground" onclick="javascript:void( (function() {var e=document.createElement('script' );e.setAttribute('type','text/javascript' );e.setAttribute('charset','UTF-8' );e.setAttribute('src','//assets.pinterest.com/js/pinmarklet.js?r='+Math.random()*99999999);document.body.appendChild(e)})());"><ss style="display:block;" class="heateorSssSharingSvg heateorSssPinterestSvg"></ss></i></li><li class="heateorSssSharingRound"><i style="width:35px;height:35px;" alt="Reddit" title="Reddit" class="heateorSssSharing heateorSssRedditBackground" onclick='heateorSssPopup("http://reddit.com/submit?url=https%3A%2F%2Fwww.forexalchemy.com%2Fforecast-of-eur-usd-on-feb-17-2020&title=Forecast%20of%20EUR%2FUSD%20on%20Feb%2017%2C%202020")'><ss style="display:block;" class="heateorSssSharingSvg heateorSssRedditSvg"></ss></i></li><li class="heateorSssSharingRound"><i style="width:35px;height:35px;" alt="Mix" title="Mix" class="heateorSssSharing heateorSssMixBackground" onclick='heateorSssPopup("https://mix.com/mixit?url=https%3A%2F%2Fwww.forexalchemy.com%2Fforecast-of-eur-usd-on-feb-17-2020")'><ss style="display:block;" class="heateorSssSharingSvg heateorSssMixSvg"></ss></i></li><li class="heateorSssSharingRound"><i style="width:35px;height:35px;" alt="Whatsapp" title="Whatsapp" class="heateorSssSharing heateorSssWhatsappBackground"><ss style="display:block" class="heateorSssSharingSvg heateorSssWhatsappSvg"></ss></i></li><li class="heateorSssSharingRound"><i style="width:35px;height:35px;" title="More" alt="More" class="heateorSssSharing heateorSssMoreBackground" onclick="heateorSssMoreSharingPopup(this, 'https://www.forexalchemy.com/forecast-of-eur-usd-on-feb-17-2020', 'Forecast%20of%20EUR%2FUSD%20on%20Feb%2017%2C%202020', '' )" ><ss style="display:block" class="heateorSssSharingSvg heateorSssMoreSvg"></ss></i></li></ul><div class="heateorSssClear"></div></div><div class='heateorSssClear'></div><div class="clear"></div><br/><div class="blog-info-wrapper"><div class="blog-date"><span class="head">Posted On</span> 17 Feb 2020</div><div class="blog-author"><span class="separator">, </span><span class="head">By</span> InstaForex</div><div class="clear"></div></div><br/><div class="blog-info-wrapper"><div class="blog-date"><span class="head">Posted On</span> 16 Feb 2020</div><div class="blog-author"><span class="separator">, </span><span class="head">By</span> InstaForex</div><div class="clear"></div></div><br/><div class="blog-info-wrapper"><div class="blog-date"><span class="head">Posted On</span> 14 Feb 2020</div><div class="blog-author"><span class="separator">, </span><span class="head">By</span> InstaForex</div><div class="clear"></div></div><br/><div class="blog-info-wrapper"><div class="blog-date"><span class="head">Posted On</span> 13 Feb 2020</div><div class="blog-author"><span class="separator">, </span><span class="head">By</span> InstaForex</div><div class="clear"></div></div><br/><div class="blog-info-wrapper"><div class="blog-date"><span class="head">Posted On</span> 12 Feb 2020</div><div class="blog-author"><span class="separator">, </span><span class="head">By</span> InstaForex</div><div class="clear"></div></div><br/><div class="blog-info-wrapper"><div class="blog-date"><span class="head">Posted On</span> 12 Feb 2020</div><div class="blog-author"><span class="separator">, </span><span class="head">By</span> InstaForex</div><div class="clear"></div></div><br/><div class="blog-info-wrapper"><div class="blog-date"><span class="head">Posted On</span> 12 Feb 2020</div><div class="blog-author"><span class="separator">, </span><span class="head">By</span> InstaForex</div><div class="clear"></div></div><br/><div class="blog-info-wrapper"><div class="blog-date"><span class="head">Posted On</span> 11 Feb 2020</div><div class="blog-author"><span class="separator">, </span><span class="head">By</span> InstaForex</div><div class="clear"></div></div><br/><div class="blog-info-wrapper"><div class="blog-date"><span class="head">Posted On</span> 10 Feb 2020</div><div class="blog-author"><span class="separator">, </span><span class="head">By</span> InstaForex</div><div class="clear"></div></div><br/>

Roz has been engaged in the financial markets since 2017, specializing in Foreign Exchange, Before joining to FOREX IN WORLD she start to learn forex trading related information.
Email: forexinworld@gmail.com