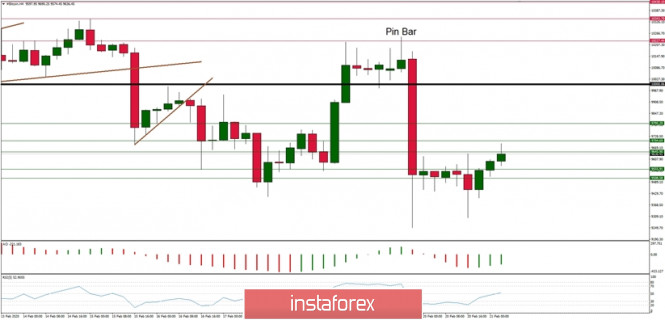 In Sweden, testing of the e-krona has begun, bringing it closer to the proper issuance of the central bank's digital currency (CBDC). The pilot program will run for a year, until February 2021.
The blockchain-based currency would fuel conventional payments and banking activities nationwide. Instead of swiping a credit card or spending cash, daily transactions can switch to Blockchain.
CBDC is currently a hot topic, and Sweden is the second country (after the Bahamas) to reveal what appeared to be a real, working national cryptocurrency. The Bahamas launched the CBDC pilot program in December and is planning full implementation in the second half of 2020.
China has announced that it is developing its own CBDC, but current events are not as consistent as in the case of Sweden and Bahamas.
The launch of CBDC in Sweden seems to match Swedish innovation – the country is already one of the most cashless societies in the world.
Technical Market Overview:
The BTC/USD pair keeps trading in a narrow zone between the levels of $9,448 – $9,704, but it does not look like the bears are done, so the downtrend might resume any time now. The momentum is weak and negative and there is no indication of any bullish reversal coming. The next target for bears is seen at the level of $9,123 and the immediate resistance is located at the level of $9,645.
Weekly Pivot Points:
WR3 – $11,039
WR2 – $10,715
WR1 – $10,112
Weekly Pivot – $9,845
WS1 – $9,424
WS2 – $8,941
WS3 – $8,335
The market might have made the first impulsive wave up of a higher degree. This strategy is valid as long as the level of $7,582 is not violated. Nevertheless, the larger timeframe trend is still down and all the shorter timeframe moves are still being treated as a counter-trend correction inside of the uptrend until the level of $10,433 is clearly broken.
The material has been provided by InstaForex Company – www.instaforex.com
Source:: Technical analysis of BTC/USD for 21/02/2020:
<!-- AddThis Button END --><div class='heateorSssClear'></div><div  class='heateor_sss_sharing_container heateor_sss_horizontal_sharing' heateor-sss-data-href='https://www.forexalchemy.com/technical-analysis-of-btc-usd-for-feb-21-2020'><div class='heateor_sss_sharing_title' style="font-weight:bold" >Won&#039;t your trader friends like this?</div><ul class="heateor_sss_sharing_ul"><li class="heateorSssSharingRound"><i style="width:35px;height:35px;" alt="Facebook" title="Facebook" class="heateorSssSharing heateorSssFacebookBackground" onclick='heateorSssPopup("https://www.facebook.com/sharer/sharer.php?u=https%3A%2F%2Fwww.forexalchemy.com%2Ftechnical-analysis-of-btc-usd-for-feb-21-2020")'><ss style="display:block;" class="heateorSssSharingSvg heateorSssFacebookSvg"></ss></i></li><li class="heateorSssSharingRound"><i style="width:35px;height:35px;" alt="Twitter" title="Twitter" class="heateorSssSharing heateorSssTwitterBackground" onclick='heateorSssPopup("http://twitter.com/intent/tweet?text=Technical%20analysis%20of%20BTC%2FUSD%20for%20Feb%2021%2C%202020&url=https%3A%2F%2Fwww.forexalchemy.com%2Ftechnical-analysis-of-btc-usd-for-feb-21-2020")'><ss style="display:block;" class="heateorSssSharingSvg heateorSssTwitterSvg"></ss></i></li><li class="heateorSssSharingRound"><i style="width:35px;height:35px;" alt="Linkedin" title="Linkedin" class="heateorSssSharing heateorSssLinkedinBackground" onclick='heateorSssPopup("http://www.linkedin.com/shareArticle?mini=true&url=https%3A%2F%2Fwww.forexalchemy.com%2Ftechnical-analysis-of-btc-usd-for-feb-21-2020&title=Technical%20analysis%20of%20BTC%2FUSD%20for%20Feb%2021%2C%202020")'><ss style="display:block;" class="heateorSssSharingSvg heateorSssLinkedinSvg"></ss></i></li><li class="heateorSssSharingRound"><i style="width:35px;height:35px;" alt="Pinterest" title="Pinterest" class="heateorSssSharing heateorSssPinterestBackground" onclick="javascript:void( (function() {var e=document.createElement('script' );e.setAttribute('type','text/javascript' );e.setAttribute('charset','UTF-8' );e.setAttribute('src','//assets.pinterest.com/js/pinmarklet.js?r='+Math.random()*99999999);document.body.appendChild(e)})());"><ss style="display:block;" class="heateorSssSharingSvg heateorSssPinterestSvg"></ss></i></li><li class="heateorSssSharingRound"><i style="width:35px;height:35px;" alt="Reddit" title="Reddit" class="heateorSssSharing heateorSssRedditBackground" onclick='heateorSssPopup("http://reddit.com/submit?url=https%3A%2F%2Fwww.forexalchemy.com%2Ftechnical-analysis-of-btc-usd-for-feb-21-2020&title=Technical%20analysis%20of%20BTC%2FUSD%20for%20Feb%2021%2C%202020")'><ss style="display:block;" class="heateorSssSharingSvg heateorSssRedditSvg"></ss></i></li><li class="heateorSssSharingRound"><i style="width:35px;height:35px;" alt="Mix" title="Mix" class="heateorSssSharing heateorSssMixBackground" onclick='heateorSssPopup("https://mix.com/mixit?url=https%3A%2F%2Fwww.forexalchemy.com%2Ftechnical-analysis-of-btc-usd-for-feb-21-2020")'><ss style="display:block;" class="heateorSssSharingSvg heateorSssMixSvg"></ss></i></li><li class="heateorSssSharingRound"><i style="width:35px;height:35px;" alt="Whatsapp" title="Whatsapp" class="heateorSssSharing heateorSssWhatsappBackground"><ss style="display:block" class="heateorSssSharingSvg heateorSssWhatsappSvg"></ss></i></li><li class="heateorSssSharingRound"><i style="width:35px;height:35px;" title="More" alt="More" class="heateorSssSharing heateorSssMoreBackground" onclick="heateorSssMoreSharingPopup(this, 'https://www.forexalchemy.com/technical-analysis-of-btc-usd-for-feb-21-2020', 'Technical%20analysis%20of%20BTC%2FUSD%20for%20Feb%2021%2C%202020', '' )" ><ss style="display:block" class="heateorSssSharingSvg heateorSssMoreSvg"></ss></i></li></ul><div class="heateorSssClear"></div></div><div class='heateorSssClear'></div><div class="clear"></div><br/><div class="blog-info-wrapper"><div class="blog-date"><span class="head">Posted On</span> 20 Feb 2020</div><div class="blog-author"><span class="separator">, </span><span class="head">By</span> InstaForex</div><div class="clear"></div></div><br/><div class="blog-info-wrapper"><div class="blog-date"><span class="head">Posted On</span> 19 Feb 2020</div><div class="blog-author"><span class="separator">, </span><span class="head">By</span> InstaForex</div><div class="clear"></div></div><br/><div class="blog-info-wrapper"><div class="blog-date"><span class="head">Posted On</span> 18 Feb 2020</div><div class="blog-author"><span class="separator">, </span><span class="head">By</span> InstaForex</div><div class="clear"></div></div><br/><div class="blog-info-wrapper"><div class="blog-date"><span class="head">Posted On</span> 12 Feb 2020</div><div class="blog-author"><span class="separator">, </span><span class="head">By</span> InstaForex</div><div class="clear"></div></div><br/><div class="blog-info-wrapper"><div class="blog-date"><span class="head">Posted On</span> 11 Feb 2020</div><div class="blog-author"><span class="separator">, </span><span class="head">By</span> InstaForex</div><div class="clear"></div></div><br/><div class="blog-info-wrapper"><div class="blog-date"><span class="head">Posted On</span> 10 Feb 2020</div><div class="blog-author"><span class="separator">, </span><span class="head">By</span> InstaForex</div><div class="clear"></div></div><br/><div class="blog-info-wrapper"><div class="blog-date"><span class="head">Posted On</span> 06 Feb 2020</div><div class="blog-author"><span class="separator">, </span><span class="head">By</span> InstaForex</div><div class="clear"></div></div><br/><div class="blog-info-wrapper"><div class="blog-date"><span class="head">Posted On</span> 05 Feb 2020</div><div class="blog-author"><span class="separator">, </span><span class="head">By</span> InstaForex</div><div class="clear"></div></div><br/><div class="blog-info-wrapper"><div class="blog-date"><span class="head">Posted On</span> 04 Feb 2020</div><div class="blog-author"><span class="separator">, </span><span class="head">By</span> InstaForex</div><div class="clear"></div></div><br/>

Roz has been engaged in the financial markets since 2017, specializing in Foreign Exchange, Before joining to FOREX IN WORLD she start to learn forex trading related information.
Email: forexinworld@gmail.com