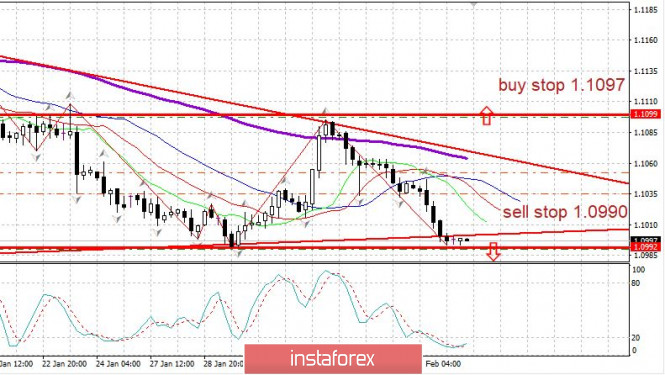 The latest data on coronavirus on the morning of February 6 shows 28 thousand infected with 560 number of deaths. Statistically, this means an increase of 3.8 thousand per day.
These data indicate that the rate of emergence of new patients has not yet fallen, hence are increasing by 10% per day. The question still remains, whether China will be able to limit the spread of the virus until the moment when it ceases to have enough staff.
Meanwhile, strict measures to limit and restrict air travel with China seem to have localized the epidemic in the country itself. It means that the risk of the Great Crisis remains, but the risk of a global epidemic has decreased.
The market, on the other hand, was temporarily distracted by other news which is Trump's win over impeachment in the Senate. Moreover, the initial data for the democratic candidates for the US presidency shows Sanders and Buttijic are both on the lead, while Joe Biden unexpectedly lagged behind giving way to Warren.
EURUSD:
Under heavy pressure.
Sellers pressed the euro to the support level of 1.0990 and blocks chances for a rebound.
We will probably see a breakout at 1.0990 and down.
We sell from 1.0990, stop at 1.1035 and profit at 1.0890.
The material has been provided by InstaForex Company – www.instaforex.com
Source:: Trader's Diary: EURUSD on 02/06/2020, China's epidemic spreads fast
<!-- AddThis Button END --><div class='heateorSssClear'></div><div  class='heateor_sss_sharing_container heateor_sss_horizontal_sharing' heateor-sss-data-href='https://www.forexalchemy.com/traders-diary-eur-usd-on-feb-6-2020-chinas-epidemic-spreads-fast'><div class='heateor_sss_sharing_title' style="font-weight:bold" >Won&#039;t your trader friends like this?</div><ul class="heateor_sss_sharing_ul"><li class="heateorSssSharingRound"><i style="width:35px;height:35px;" alt="Facebook" title="Facebook" class="heateorSssSharing heateorSssFacebookBackground" onclick='heateorSssPopup("https://www.facebook.com/sharer/sharer.php?u=https%3A%2F%2Fwww.forexalchemy.com%2Ftraders-diary-eur-usd-on-feb-6-2020-chinas-epidemic-spreads-fast")'><ss style="display:block;" class="heateorSssSharingSvg heateorSssFacebookSvg"></ss></i></li><li class="heateorSssSharingRound"><i style="width:35px;height:35px;" alt="Twitter" title="Twitter" class="heateorSssSharing heateorSssTwitterBackground" onclick='heateorSssPopup("http://twitter.com/intent/tweet?text=Trader%27s%20Diary%3A%20EUR%2FUSD%20on%20Feb%206%2C%202020%2C%20China%27s%20epidemic%20spreads%20fast&url=https%3A%2F%2Fwww.forexalchemy.com%2Ftraders-diary-eur-usd-on-feb-6-2020-chinas-epidemic-spreads-fast")'><ss style="display:block;" class="heateorSssSharingSvg heateorSssTwitterSvg"></ss></i></li><li class="heateorSssSharingRound"><i style="width:35px;height:35px;" alt="Linkedin" title="Linkedin" class="heateorSssSharing heateorSssLinkedinBackground" onclick='heateorSssPopup("http://www.linkedin.com/shareArticle?mini=true&url=https%3A%2F%2Fwww.forexalchemy.com%2Ftraders-diary-eur-usd-on-feb-6-2020-chinas-epidemic-spreads-fast&title=Trader%27s%20Diary%3A%20EUR%2FUSD%20on%20Feb%206%2C%202020%2C%20China%27s%20epidemic%20spreads%20fast")'><ss style="display:block;" class="heateorSssSharingSvg heateorSssLinkedinSvg"></ss></i></li><li class="heateorSssSharingRound"><i style="width:35px;height:35px;" alt="Pinterest" title="Pinterest" class="heateorSssSharing heateorSssPinterestBackground" onclick="javascript:void( (function() {var e=document.createElement('script' );e.setAttribute('type','text/javascript' );e.setAttribute('charset','UTF-8' );e.setAttribute('src','//assets.pinterest.com/js/pinmarklet.js?r='+Math.random()*99999999);document.body.appendChild(e)})());"><ss style="display:block;" class="heateorSssSharingSvg heateorSssPinterestSvg"></ss></i></li><li class="heateorSssSharingRound"><i style="width:35px;height:35px;" alt="Reddit" title="Reddit" class="heateorSssSharing heateorSssRedditBackground" onclick='heateorSssPopup("http://reddit.com/submit?url=https%3A%2F%2Fwww.forexalchemy.com%2Ftraders-diary-eur-usd-on-feb-6-2020-chinas-epidemic-spreads-fast&title=Trader%27s%20Diary%3A%20EUR%2FUSD%20on%20Feb%206%2C%202020%2C%20China%27s%20epidemic%20spreads%20fast")'><ss style="display:block;" class="heateorSssSharingSvg heateorSssRedditSvg"></ss></i></li><li class="heateorSssSharingRound"><i style="width:35px;height:35px;" alt="Mix" title="Mix" class="heateorSssSharing heateorSssMixBackground" onclick='heateorSssPopup("https://mix.com/mixit?url=https%3A%2F%2Fwww.forexalchemy.com%2Ftraders-diary-eur-usd-on-feb-6-2020-chinas-epidemic-spreads-fast")'><ss style="display:block;" class="heateorSssSharingSvg heateorSssMixSvg"></ss></i></li><li class="heateorSssSharingRound"><i style="width:35px;height:35px;" alt="Whatsapp" title="Whatsapp" class="heateorSssSharing heateorSssWhatsappBackground"><ss style="display:block" class="heateorSssSharingSvg heateorSssWhatsappSvg"></ss></i></li><li class="heateorSssSharingRound"><i style="width:35px;height:35px;" title="More" alt="More" class="heateorSssSharing heateorSssMoreBackground" onclick="heateorSssMoreSharingPopup(this, 'https://www.forexalchemy.com/traders-diary-eur-usd-on-feb-6-2020-chinas-epidemic-spreads-fast', 'Trader%27s%20Diary%3A%20EUR%2FUSD%20on%20Feb%206%2C%202020%2C%20China%27s%20epidemic%20spreads%20fast', '' )" ><ss style="display:block" class="heateorSssSharingSvg heateorSssMoreSvg"></ss></i></li></ul><div class="heateorSssClear"></div></div><div class='heateorSssClear'></div><div class="clear"></div><br/><div class="blog-info-wrapper"><div class="blog-date"><span class="head">Posted On</span> 10 Feb 2020</div><div class="blog-author"><span class="separator">, </span><span class="head">By</span> InstaForex</div><div class="clear"></div></div><br/><div class="blog-info-wrapper"><div class="blog-date"><span class="head">Posted On</span> 07 Feb 2020</div><div class="blog-author"><span class="separator">, </span><span class="head">By</span> InstaForex</div><div class="clear"></div></div><br/><div class="blog-info-wrapper"><div class="blog-date"><span class="head">Posted On</span> 07 Feb 2020</div><div class="blog-author"><span class="separator">, </span><span class="head">By</span> InstaForex</div><div class="clear"></div></div><br/><div class="blog-info-wrapper"><div class="blog-date"><span class="head">Posted On</span> 06 Feb 2020</div><div class="blog-author"><span class="separator">, </span><span class="head">By</span> InstaForex</div><div class="clear"></div></div><br/><div class="blog-info-wrapper"><div class="blog-date"><span class="head">Posted On</span> 05 Feb 2020</div><div class="blog-author"><span class="separator">, </span><span class="head">By</span> InstaForex</div><div class="clear"></div></div><br/><div class="blog-info-wrapper"><div class="blog-date"><span class="head">Posted On</span> 04 Feb 2020</div><div class="blog-author"><span class="separator">, </span><span class="head">By</span> InstaForex</div><div class="clear"></div></div><br/><div class="blog-info-wrapper"><div class="blog-date"><span class="head">Posted On</span> 04 Feb 2020</div><div class="blog-author"><span class="separator">, </span><span class="head">By</span> InstaForex</div><div class="clear"></div></div><br/><div class="blog-info-wrapper"><div class="blog-date"><span class="head">Posted On</span> 03 Feb 2020</div><div class="blog-author"><span class="separator">, </span><span class="head">By</span> InstaForex</div><div class="clear"></div></div><br/><div class="blog-info-wrapper"><div class="blog-date"><span class="head">Posted On</span> 31 Jan 2020</div><div class="blog-author"><span class="separator">, </span><span class="head">By</span> InstaForex</div><div class="clear"></div></div><br/>

Roz has been engaged in the financial markets since 2017, specializing in Foreign Exchange, Before joining to FOREX IN WORLD she start to learn forex trading related information.
Email: forexinworld@gmail.com